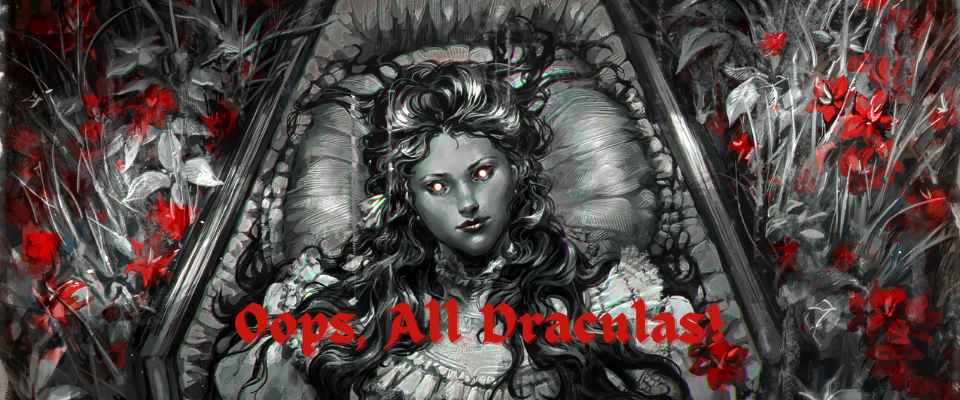 Oops All Draculas!
You've always wondered what was just beyond the doors of the spooky house at the end of the block. Turns out, it's full of Draculas. Now, those Draculas are you.

Oops, All Draculas! is a Buddy System game using either tarot or Dracula by Bram Stoker and can be played with or without a GM.
Oops, All Draculas! is a d6 (six-sided die) dice pool game using either tarot or "Dracula" by Bram Stoker (or your favorite Dracula book, do you, live your best Dracula life) and can be played with or without a Dracula Master. In it, you play as various styles of Dracula all living together in a home of your design. Whether from internal or external forces, shenanigans ensue. Be they Dracula hunters, new Draculas in town, werewolves, or the hated Home Ownership Association, a Dracula's life is never easy.
Choose your Dracula archetype and assign statistics to your Dracula abilities. Choose your familiar, and then create your home as a group. Whenever you come up against something that requires rolling ---if something is uncertain---roll as many d6s as you have in the relevant statistic. 5s and 6s are successes. If a fellow Dracula helps you, add +1d6 for each helper. If your familiar can help, add +1d6 for them as well. Lastly, if rolling while in your home, add an additional +1d6. Beware of magical backfire, however! Things can go very wrong when too many Draculas put their magic together...
Thanks to our wonderful Crowdfundr backers, Oops, All Draculas! is now featuring art by Kata Kemi, Nataša Ilinčić, Théo Legouis, Rori Mackenzie, David Markiwsky, Xan Larson, and character sheets by Saga Mackenzie.

Choose your Dracula archetype
Aristocrat: use your wealth and animal magnetism to bring others under your spell
Innocuous: catch the unsuspecting with your doe eyes and deadly fangs
Nosferatu: control dreams and shadows with your ancient powers
Sentimentalist: find a mortal muse and artistic purpose to keep your undeath worth living
Techno: party all night and prepare for war on behalf of all Dracula-kind
Choose a minion
Create your home
Shape your world
Now available in print from Indie Press Revolution andPlus One Exp!

| | |
| --- | --- |
| Status | Released |
| Category | Physical game |
| Rating | |
| Author | unseeliejess |
| Genre | Role Playing |
| Tags | Animals, Atmospheric, Co-op, Cozy, dracula, LGBTQIA, Magical Realism, Tarot, Vampire |
| Average session | A few seconds |
| Accessibility | Color-blind friendly, High-contrast, Blind friendly |
Purchase
In order to download this Dracula you must purchase it at or above the minimum price of $15 USD. You will get access to the following files:
OopsAllDraculas.pdf
16 MB
Comments
Log in with itch.io to leave a comment.
Looks great! It was a pleasure to be in the Queer Halloween Stories Bundle with you!
I love the potential for a fully dark comedy one-shot, especially the way combining powers can backfire spectacularly!

I made a short video about the game:
Thank you so much for the video! You are too kind! (One note: my name is misspelled in the video title. It's a C in my last name, not a K)